A
A
A
PorkChopsMmm
Forum Posts: 1515
Member Since:
5 Mar '12
Offline
Here is a short write up on our offgrid energy set up. We moved into our house almost a year ago and we are just getting through our first winter.
Setup:
Outback VFX 3648 - 48V 3600 watt Inverter/Charger $1800
Outback MX60 MPPT - 60 Amp Charge Controller $500
Outback MATE - Computer/LCD screen that allows you to monitor and interact with equipment $250
Outback HUB4 - 4 Port hub that uses RJ45 to interconnect all of the components (does not use IP -- uses Serial over RJ45 -- so not compatible with other types of switches or hubs) $150
Works like this...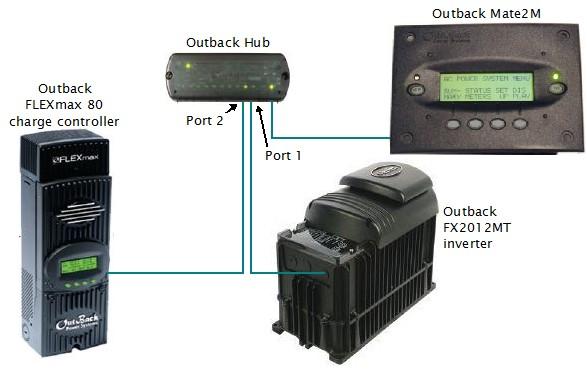 Outback FlexNetDC - This is a battery monitor that interacts with the MATE $200
Chinese panels -- 6 240 watt panels $700 per 3 so $1400 total (you can get them cheaper now)
8 Energizer 6V 225 amp hour batteries -- Configured in a 48V bank $90 per battery so ~$800
Champion 3500 watt generator with remote electric start $450
Lessons Learned:
- If you live up north like I do a generator is KEY. We don't get enough sun for a few months of the year and you will need another source of power (grid, wind, generator, etc.)
- In planning for the solar setup I did not plan thoroughly enough for mounting the panels. I have them temporarily set up in treated wood frames and hope to have them up on the roof of my barn, and tiltable, this summer.
- Don't be afraid to start small. We had 3 of these solar panels feeding the same charge controller but with a 12V battery bank and 12V inverter. This allowed me to learn about solar and use the power from it while building our place. I was then able to have a better idea of how to upgrade our system.
- Thick copper wire, buss bars, breaker boxes, and breakers add up in cost. Plan accordingly.
- Build a lean-to or something to cover up your generator and block it from the weather. You will need to be refilling it with gas at any time of the day and you don't want snow, freezing rain, etc. on it.
Future Plans:
- Mount the solar panels -- anyone who knows anything about unistrut, aluminum hinges, or anything that could help please let me know.
- Buy an additional 6 panels. That will max out my 60 Amp charge controller and any more panels will require a second charge controller.I think 6 more panels would cost under $1,000 now.
- Possibly add grid power in if I can get it arranged for a back up power source (we would still rely on solar as much as we could). We cannot get by during the winter without extra power of some kind -- there just isn't enough sun. It's either rely on the generator, try to get a grid to get back up power from, or try and set up a wind turbine that most likely won't meet our needs.
- I have an external tankless water heater that uses electricity to keep from freezing. It uses almost as much as our fridge so I will be looking to switch that out soon.
Other Pictures:
The house (a little more finished since this picture). Wired just like any other house but with all LED light bulbs
Barn that we built to put the solar panels on the roof.
My barn is ~100 yards away. I trenched power from the barn to provide power to the house. Is wired like a normal breaker panel but the input just comes from the thick wiring from the barn.
Please post back with any questions.
This is great information. Thank you! For my tankless water heater, I added a valve that drains into the tub. When I open the valve, it drains all the water out of the heater. I learned the hard way when it froze and split the copper tube. What LEDs do you like?
Your Outback VFX 3648 - 48V shows 25 volts on the Outback MATE - Computer/LCD screen?? Is something bad wrong here?
I like the picture showing how everything connects. Where is the Outback FlexNetDC tied in?
How long does the charger/generator have to run to charge the batteries? I am using an automotive charger and it runs for hours, way too many hours. I know I need something better. One of my chargers has 50 amps and it still takes too long.
PorkChopsMmm
Forum Posts: 1515
Member Since:
5 Mar '12
Offline
Hey bgarret, thanks for the questions. My tankless water heater can't do that, unfortunately. I don't think Rheem ever designed it to be drained. To be warrantied it must always have power... always. I blew it out with air 2 winters ago and completely drained it. I came back in the Spring and it had burst some internal pipes -- it just wasn't designed for being offgrid and/or draining. Plus, I am married with 3 little kids (and another on the way!) and it is constantly in use. I couldn't drain it for any length of time on a normal day.
That picture of the MATE is just a random picture off the web -- hopefully my bank will never see 25 volts!
The FlexNetDC has an RJ45 port for displaying it's information on the MATE and it then has 2 little wires that go to shunts... and you generally have shunts for every source of power you have coming in/out.
Hopefully these pictures display it a little better.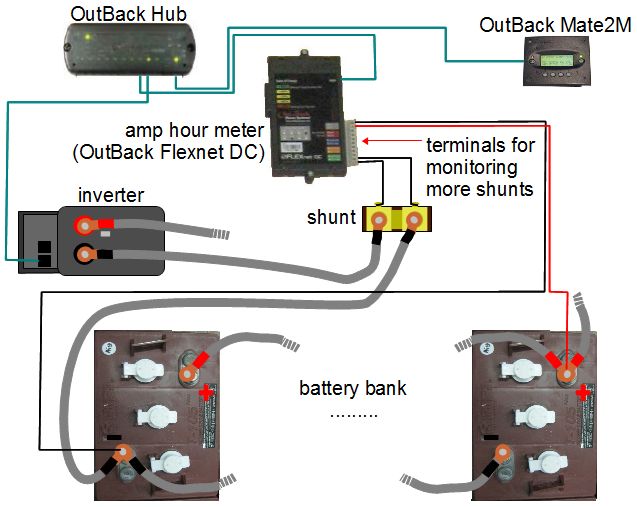 The generator charging the batteries deal is kind of a loaded question. It depends on how low the batteries are and how full you want to get them. If the batteries are way low it will take longer and there is a general rule of thumb when charging with the generator. If you know the next day is going to be sunny you can just charge to 90% or so and let the sun take care of the rest when it is out. If aren't going to have full sun then a full charge can take hours! Batteries have to be in bulk, then absorb, then float. Each one has requires less and less power and float, even though it takes hours, only uses a little bit of power. Because of this using the generator is less and less efficient unless you have a generator that can idle itself down. Even then it is still pretty inefficient.
If your charging is taking that long I would look at a few variables... how big is your bank? How are you measuring voltage, etc.? Most banks can only take so much amperage at one time. I charge mine with MAX 15 amps... I would love to see what 50 amps could do but that is a ton of power.
Greenup
Forum Posts: 900
Member Since:
22 Oct '12
Offline
My setup is very primitive. I have a 12v battery for my travel trailer, another on the 6x8 building that contains my bathtub and another sitting on the floor for my internet. This one powers an inverter, a laptop, a signal booster and a Verizon aircard. The battery for the bath room only powers a 12V pump to get water out of the creek. The travel trailer batt is only used for an occasional light. It takes way to much gas in the generator to charge these. I try to use all 3 chargers whenever I start the generator, a Honda eu3000i. I have a digital meter and the inverter squeals at low batt. What LEDS DO YOU LIKE?
*Batteries have to be in bulk, then absorb, then float.* those are english words but I do not know what that stuff means
PorkChopsMmm
Forum Posts: 1515
Member Since:
5 Mar '12
Offline
Thanks Greenup. It works pretty well but there may be better solutions out there. Outback's products are cool because they all interconnect easily but their weakness is software. I find the MATE trickier to navigate then it needs to be and it is pretty hard to get the automatic generator start capability working. These are things that Xantrex, a competing solar inverter/component manufacturer, does better. A lot of it is personal preference.
Thanks bgarrett. Your eu3000i is an awesome generator. You shouldn't be struggling with that at all. It is probably your chargers. You may want to look into an Iota charger and/or hooking all of your batteries together and running AC out to your buildings. That way you can monitor your batteries and centralize.
LEDs... that's hard. We had to spend a lot of extra money on the bulbs vs. CFL but because they are so energy efficient we didn't have to invest more in solar. We have Menards building centers up here and they have a pretty good cheap brand and good returns. I bought all of our LEDs there because I could match the color of the light (there are yellow and white lights so make sure you know which is which) except for our LED can lights which I got at Lowes. Those were $50 apiece. Again, lots of money but we didn't need more battery power right away to support CFL or traditional bulbs. Rule of them with the LEDs is they require about half the energy of a CFL while CFLs require about a half, or less, than traditional.
awesome write up pork, is your inverter in the barn or in the house? How deep did you bury the cable? Here in Maine it has to be buried over 2 feet deep or buried in cement, since we had just a 10 foot run for the genny cable we just dug a shallow trench and dumped bags of cement to cover it
PorkChopsMmm
Forum Posts: 1515
Member Since:
5 Mar '12
Offline
Inverter and all equipment is in the barn. I haven't shown pictures of it installed because, despite moving all of the equipment to the barn months ago, I still need to close up some conduit and make some of the wiring look more professional.
The cable is buried close to 3 feet deep. In the picture you are only seeing the top conduit run. It goes like this from deepest to shallowest...
- 1" Water pipe going out to the barn
- 6" of dirt
- 2-2-2-4 mobile home aluminum feeder line going from the barn to the house (appropriately sized to not have much AC drop over the distance)
- 6" of dirt
- Conduit carrying 1 coax cable (for cell phone antenna extender), 2 CAT6 networking cables (one dedicated to the MATE display for the solar and one for future use), a pull string, etc.
- 6" of dirt
- Caution tape for digging that is also metal detector detectable
- More dirt
I carefully planned this for a few months, I wanted to get this right the first time and not have to dig again. It was a lot of work.
Forum Timezone:
America/New_York
Most Users Ever Online: 476
Currently Online:
12 Guest(s)
Currently Browsing this Page:
1 Guest(s)
Top Posters:
easytapper: 2149
DangerDuke: 2030
groinkick: 1667
PorkChopsMmm: 1515
Gravel Road: 1455
Newest Members:
Materials Inc.
stockton
riteways
john_sky
bigskybob
Forum Stats:
Groups: 1
Forums: 12
Topics: 11464
Posts: 58655
Member Stats:
Guest Posters: 2
Members: 1915
Moderators: 0
Admins: 1