A
A
A
PorkChopsMmm
Forum Posts: 1515
Member Since:
5 Mar '12
Offline
So in anticipation of wanting to get some miniature cattle like KVR I have been contemplating on how to fence in some of our 'pasture' areas. Our house was built in the middle of a field 10 years ago and the previous owners never fenced in for animals. Instead they planted pine trees, some fruit trees, and dug a pond... which does not hold water. But that is for another time. 
My goal is to start small and fence a portion of our land that would be good for grazing. I have larger plans (that have been posted on this site before) to create a large rotational grazing area... but it is a big project and we are not ready for it. Instead, I came up with the crazy idea that I want to fence in an area that is hard to bail hay on but still has wonderful pasture grass. It is just sitting dormant right now and I don't think it would cost a ton of money to fence.
Here is my plan... fence it in, borrow some goats from a neighbor, and see how it works with bringing water and feed to them every day. I know goats don't love grass but at least they will help clear out and prep the ground for future use.
Where the spot is in relation to the house: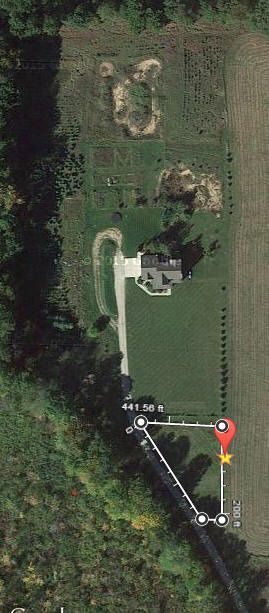 Close up that shows distances: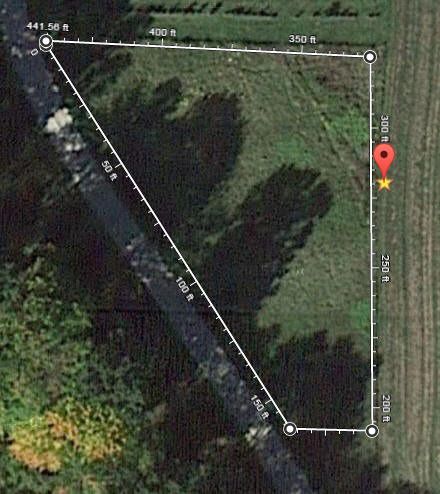 So ~450 feet of fence. So I would need a wooden post at every corner and to help brace a gate and t-posts every 50 feet. I saw 50 feet because this will be done with high tensile wire that is electrified and I have read you can go between 30 to 60 feet on straight runs without fence as long as they are straight and flat -- which mine are.
Supplies:
6 wood posts

6 t-posts
1 spool of 2600ft aluminum wire (for 4 to 5 strands of wire)
Misc insulators and other things I need to figure out
Gate
Solar charger
I am hoping I can do this on the cheap. I need to clear it with my wife since this is a random project that I have come up with at the last minute. I ran a test the other night and it turns out my tractor can push t-posts into the ground using the bucket very easily in my soil. This is great news and means I can just drive around and push in the few needed for this project. This is all a test -- if I do the larger field I would need 100+ t-posts so I want to be able to do that with my tractor.
We'll see if this gets legs and gets off of the ground but I figure it will be a fun experiment and will be building something we can use in the future.
PorkChopsMmm
Forum Posts: 1515
Member Since:
5 Mar '12
Offline
I don't think they would be good for that. Did I ever tell you the PO planted thousands of pine trees on the property? They are all of the dots you see in the map. I have been selling them on the side but I want to get rid of them in the next year before they get too big. My plan is if I don't sell them all by Fall I am going to run a Christmas tree farm and blow them all out.
farmboy2
Forum Posts: 1243
Member Since:
4 Mar '12
Offline
PorkChopsMmm
Forum Posts: 1515
Member Since:
5 Mar '12
Offline
KVR said
How do you advertise? CL?

So you decided on solar?
Yes, just advertise on Craigslist. I might try calling around to some local tree places to see if they are interested in buying all of them. In a few years they will be too big to remove easily and I don't want to deal with that. I want to do solar for this test run because I don't have to run power out to it. If/when we would fence the whole field then I would just tie this small portion into the AC powered fencer charger and shelve the solar unit.
farmboy2 said
my suggestion, build or buy a shed and place it next to the area to be fenced. Store your cattle supplies in it.

also, not sure how easy it would be, but I would run water to the shed as well. 
Thanks fb. That is my long term plan -- this is just a short term test to fence in a smaller area than my long term goal of fencing an entire field, subdividing it up, building a new outbuilding, and running water and electric out to it.
KVR said
you get it past the wife?
She is cautious but I don't have it scheduled for a weekend, yet. Maybe next month. We budget everything and this wasn't on the docket for June.
Forum Timezone:
America/New_York
Most Users Ever Online: 145
Currently Online:
16 Guest(s)
Currently Browsing this Page:
1 Guest(s)
Top Posters:
easytapper: 2149
DangerDuke: 2030
groinkick: 1667
PorkChopsMmm: 1515
Gravel Road: 1455
Newest Members:
borffmann
BioBag International AS
hickmama
jodyl
John Galt
Forum Stats:
Groups: 1
Forums: 12
Topics: 11450
Posts: 58636
Member Stats:
Guest Posters: 2
Members: 1885
Moderators: 0
Admins: 1