Here are some Inexpensive Night Vision options that are available on the market today. Night vision is a good tool to have around the homestead to check the back field when you hear something in the middle of the night without using a flashlight. I have two NV products and a laser that I like to carry around outside when it gets dark.
One option is the Night Owl iGEN 20/20 Day/Night Vision Monocular (3x). We had a problem with bears around town last summer, so I picked this up to do a quick check on the pigs to make sure nothing was down there with them visiting.
Proprietary iGEN technology is the future of night vision; surpasses Gen 2 and Gen 3
Light amplification adjustable from 300x to 10,000x
Variable Frame Rate (2 fps to 30fps); 3 modes of infrared intelligence
Enhanced infrared sensitivity; double the sensitivity of intensifier tube technology
The other option we use is the ATN Aries Mk.390 Gen 1 Paladin 4x Magnification Night Vision Rifle Scope. With night hunting coyotes here in Maine, this thing comes in handy!
It fits perfectly on my M&P 22 and is great for night time pest control.
Night vision scope with 4x magnification and IR illuminator
Superior optical configuration with low F-stop factor for brighter, sharper image
Precision "red on green" aiming system with reticle brightness adjustment
Detachable 450 mW infrared illuminator with windage and elevation adjustments
This item is restricted for sale to the state of California and outside the US
To be honest I prefer the night owl, the picture is better and more true, plus it takes standard batteries, not the funky 123's  the paladin uses.
Some people have mounted the night owl to use on a rifle as well but my brother-in-law has researched this some and there seems to be some mixed results with it.
With that being said, they are both a little pricey at right around 400 dollars.
A cheaper alternative would be a laser illuminator like the Laser Genetics ND3 Miniature Laser Designator, which has since been replaced by the Laser Genetics ND5 Miniature Laser Designator. It just mounts on your scope and when you sight; the laser lights up your viewing field.
For me, I prefer to just hold the light with my hand on the side for easier control and field of view.
One bad thing about the ND3; it doesn't perform well in cold temperatures, but I do see they have a sub zero model now.
Out of the three options, the ND3 is my go to option. It's light; doesn't take up a lot of room and I can just slip it into my pocket. Battery life is good except for the cold weather issue that they addressed in the later model.
This is another cheap option available; the Kill Light.
Mounts to your scope or barrel
Unbelievable 250 yard range
Green LED lights
On/Off switch standard, pressure switch available upon request
For those that want a cool DIY project, you can make your own as well.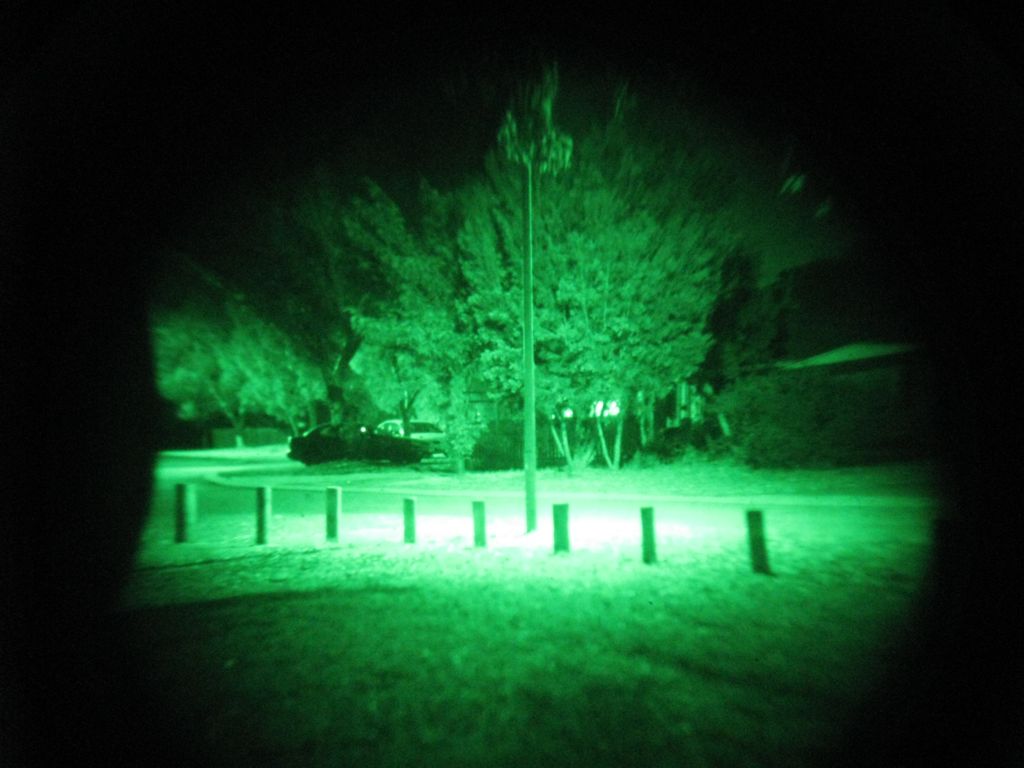 So for anywhere from 150-420 dollars you can have a tool that will help control the varmint population and keep a eye on your animals which is always a good thing. Plus they are pretty cool and a lot of fun!